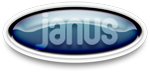 Janus is an application suite that allows multiple cameras to record and playback a scene as a single, stitched movie. The technical hurdles have been overcome and the only things we are doing now are adding features and trying to get a little better stitching quality. We have a couple of early screenshots so that you can visualize what Janus does. Unfortunately we can't show you any newer screenshots right now because of some agreements that we have with clients but there will be more here soon.
Janus has lens correction and image blending (the correction can be easily seen in curved seam in the second shot).
This application is a custom playback app that offers full control over the lens correction, rotation, and placement of each view.
| | |
| --- | --- |
| | First test |
| | First outdoor test for far subjects. Shows curved lens correction and graduated blending between cameras. |